Available Price: 14.00 € VAT included 5.50 % : 0.73 €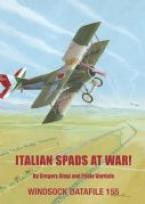 Windsock Datafile - 155. ITALIAN SPADS AT WAR !
Release of 1/10/2012
Author:
Gregory Alegi & Paolo Variale
Edition:
ALBATROS PRODUCTIONS
ISBN :
978-1-906798-27-7
The historical in-depth narrative is supported by over 105 rare photos-18 of which are in full colour to illustrate the survivors,airframe details, and original fabric and markings.Martin Digmayer provides detailed 1:72 and 1:48 scale drawings for the Italian SPAD VII,and the new DATAFILE contains plenty of source notes, appendices,and colour data. Ronny Bar's contribution is three pages of superb,highly accurate,and colourful examples of both VII and XIII versions.Another great package of WWI aeronautical documentation!
Format : A4
Pages number : 32
Pictures number : 105
Language : English
Color profiles : 9
Available Price: 14.00 €
Avions-bateaux suggestions :
BUILDING THE WINGNUT WINGS : THE DOLPHIN AND PFALZ D.IIIA.

30.00€

TTC

BUILDING THE WINGNUT WINGS : JUNKERS D.I

30.00€

TTC

BUILDING THE WINGNUT WINGS : GOTHA G.IV. Reissue !

32.00€

TTC

BUILDING THE WINGNUT WINGS : SOPWITH CAMELS (&LVG C.VI)

31.00€

TTC

Windsock Datafile - 174 - PFALZ D.IIIA AT WAR ! Vol.2

16.00€

TTC

Windsock Datafile 173 - PFALZ D.IIIA AT WAR ! Vol.01

16.00€

TTC

Windsock Datafile - 172 - THE RAF BE2C AT WAR !

15.00€

TTC