Available Price: 13.00 € VAT included 5.50 % : 0.68 €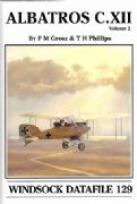 Windsock Datafile - 129. Albatros C.XII. Vol.2
Release of 1/06/2008
Author:
P. M. GROSZ & T. H. Phillips
Edition:
ALBATROS PRODUCTIONS
ISBN :
1-902-207-89-0
The second volume of the Albatros C.XII 'mini series' comes with seven pages of 1:48/1:72 scale plans, detailed narrative by P M Grosz and T H Phillips and scores of rare archive photos, few of which have been published hitherto. Full appendices plus detailed colour notes, and superb cover art by Russell Smith and Juanita Franzi. An absolute must-have reference!
Format : A4
Pages number : 36
Pictures number : 70
Language : English
Color profiles : 3
Available Price: 13.00 €
Avions-bateaux suggestions :
Building the Wingnut Wings N°9 - HALBERSTADT CL.II

31.00€

TTC

Building the Wingnut Wings N°8 - HANNOVER CL.II

29.50€

TTC

BUILDING THE WINGNUT WINGS : THE DOLPHIN AND PFALZ D.IIIA.

30.00€

TTC

BUILDING THE WINGNUT WINGS : JUNKERS D.I

30.00€

TTC

BUILDING THE WINGNUT WINGS : GOTHA G.IV. Reissue !

32.00€

TTC

BUILDING THE WINGNUT WINGS : SOPWITH CAMELS (&LVG C.VI)

31.00€

TTC

Windsock Datafile - 174 - PFALZ D.IIIA AT WAR ! Vol.2

16.00€

TTC