Out of stock, waiting back order Price: 30.00 € VAT included 5.50 % : 1.56 €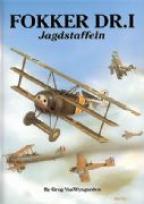 Windsock Specials - Fokker DR.I Jagdstaffeln
Release of 1/03/2007
Author:
Greg Van Wyngarden
Edition:
ALBATROS PRODUCTIONS
ISBN :
1-902-207-69-6
This Special is destined to be a big hit with aero-enthusiasts the World over - and a sure-fire winner with scale modellers too! Greg's 88 page book contains over 250 photos covering no less than 18 Jastas that operated the iconic Fokker Triplane over the Western Front in 1917 and 1918. The title also carries stunning all-new colour art by Ronny Bar, Robert Karr, Juanita Franzi and Bob Pearson, providing one of the richest collections of Dr.I imagery currently in print.

Greg traces the stories of the main Front-line Triplane units as well as giving a considered appraisal of the three pre-production F.Is. There are over 10 pages of unique colour art, providing multi-views that outline factory finish, stencil application and component numbering, a centre-spread of over two dozen profiles showing official Triplane Jasta markings, plus detailed three-views of eight selected Triplanes, the majority of which will be new to even the most seasoned Dr.I fan. Add to this, eight pages of brand-new, highly-detailed 1:32 scale plans by Marty Digmayer and you have a terrific Triplane reference package!
Format : A4
Pages number : 84
Pictures number : 250
Language : English
Color profiles : 30
Out of stock, waiting back order Price: 30.00 €
Avions-bateaux suggestions :
Building the Wingnut Wings N°9 - HALBERSTADT CL.II

31.00€

TTC

Building the Wingnut Wings N°8 - HANNOVER CL.II

29.50€

TTC

BUILDING THE WINGNUT WINGS : THE DOLPHIN AND PFALZ D.IIIA.

30.00€

TTC

BUILDING THE WINGNUT WINGS : JUNKERS D.I

30.00€

TTC

BUILDING THE WINGNUT WINGS : GOTHA G.IV. Reissue !

32.00€

TTC

BUILDING THE WINGNUT WINGS : SOPWITH CAMELS (&LVG C.VI)

31.00€

TTC

Windsock Datafile - 174 - PFALZ D.IIIA AT WAR ! Vol.2

16.00€

TTC