Available Price: 32.00 € VAT included 5.50 % : 1.67 €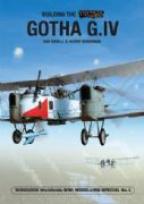 BUILDING THE WINGNUT WINGS : GOTHA G.IV. Reissue !
Release of 1/03/2018
Author:
Ray Rimell & Harry Woodman.
Edition:
ALBATROS PRODUCTIONS - Windsock Specials N°01
ISBN :
978-1-906798-10-9
OUR first model of the First World War and our fastest seller! The first and second impressions are already out of print ! This page is only available in English. Other features, while there is a captivating description of a Gotha Daylight raid on London with eyewitness accounts first-hand. In addition to a detailed description of the Wingnut Wings 1:32 2010 kit, Ray Rimell presents a fully illustrated detailed construction. diary of this revolutionary kit spread over 20 pages; In addition, there are other archive photos, an investigation of other Gotha kits and a set of specially commissioned Ronny Bar profiles. More than 270 color photos, 36 archival photos and eight sketches. Third edition in March 2018!
Format : A4
Pages number : 44
Pictures number : 270
Language : English
Color profiles : 2
Available Price: 32.00 €
Avions-bateaux suggestions :
Building the Wingnut Wings N°9 - HALBERSTADT CL.II

31.00€

TTC

Building the Wingnut Wings N°8 - HANNOVER CL.II

29.50€

TTC

BUILDING THE WINGNUT WINGS : THE DOLPHIN AND PFALZ D.IIIA.

30.00€

TTC

BUILDING THE WINGNUT WINGS : JUNKERS D.I

30.00€

TTC

BUILDING THE WINGNUT WINGS : SOPWITH CAMELS (&LVG C.VI)

31.00€

TTC

Windsock Datafile - 174 - PFALZ D.IIIA AT WAR ! Vol.2

16.00€

TTC

Windsock Datafile 173 - PFALZ D.IIIA AT WAR ! Vol.01

16.00€

TTC