Available Price: 25.00 € VAT included 5.50 % : 1.30 €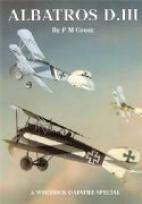 Windsock Specials - Albatros D.III.
Release of 31/08/2003
Author:
P. M. GROSZ
Edition:
ALBATROS PRODUCTIONS
ISBN :
1-902-207-62-9
Peter M Grosz profiles the famous German 'V'-strutter as never before. Over 130 rare photos, six pages of all-new highly detailed 1:48/1:72 scale GAs, 18 brand new colour profiles plus superb art on the covers, the book also provides a detailed section on colours and markings.
Format : A4
Pages number : 56
Pictures number : 130
Language : English
Color profiles : 22
Available Price: 25.00 €
Avions-bateaux suggestions :
Building the Wingnut Wings N°9 - HALBERSTADT CL.II

31.00€

TTC

Building the Wingnut Wings N°8 - HANNOVER CL.II

29.50€

TTC

BUILDING THE WINGNUT WINGS : THE DOLPHIN AND PFALZ D.IIIA.

30.00€

TTC

BUILDING THE WINGNUT WINGS : JUNKERS D.I

30.00€

TTC

BUILDING THE WINGNUT WINGS : GOTHA G.IV. Reissue !

32.00€

TTC

BUILDING THE WINGNUT WINGS : SOPWITH CAMELS (&LVG C.VI)

31.00€

TTC

Windsock Datafile - 174 - PFALZ D.IIIA AT WAR ! Vol.2

16.00€

TTC