Available Price: 12.00 € VAT included 2.10 % : 0.25 €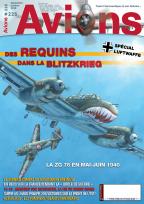 AVIONS N°225
Release of 28/08/2018
Author:
Edition:
Des requins dans la Blitzkrieg - Special Luftwaffe
ISBN :
Contents of this # 225:
- Sharks in Blitzkrieg: ZG 76 in May-June 1940 (full story). By Jean-Louis Roba.
- Hans Philipp, "The Krasnogvardeysk Eagle" (end). By Philippe Saintes, with the participation of Christophe Cony.
- The last fight of the Hauptmann Bretnütz (complete story). By Mikhail Timine.
- Manfred von Richthofen, the Ace of the First World War (end) 3rd part: the end of the Red Baron. By David Méchin and Christophe Cony.
- The Fernaufklärer on France during the "Funny War" (Part 1). By Pierre Brouez.
- US flying firefighters in congress (full story). By Cyril Defever.
Format : A4
Pages number : 96
Pictures number : 200
Language : French
Color profiles : 10
Available Price: 12.00 €
Avions-bateaux suggestions :
AVIONS N°235

12.00€

TTC

AVIONS N°234

12.00€

TTC

AVIONS N°233

12.00€

TTC

AVIONS N°232

12.00€

TTC

AVIONS N°231

12.00€

TTC

AVIONS N°230

12.00€

TTC

AVIONS N°229 - out of print !

12.00€

TTC