Available Price: 26.00 € VAT included 5.50 % : 1.35 €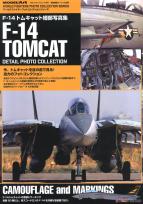 Vessel Model Special F-14 Tomcat Detail Photograph Collection (Book)
Release of 1/08/2020
Author:
Edition:
MODEL ART
ISBN :
Complete reproduction of the F-14 Tomcat. Large collection of detailed photos.

It's been 14 years since the F-14 Tomcat retired from the US Navy.
However, the F-14 is still a popular fighter whose popularity has not waned.
The cockpit, but also the whole aircraft from the tip of the nose to the jet engine nozzle are reproduced in this magazine.
In addition, a number of drawings that will delight model makers are also included with detailed explanations.
Format : 21*29.7
Pages number : 160
Pictures number : 450
Language : Japanese
Color profiles : 40
Available Price: 26.00 €
Avions-bateaux suggestions :
N°1043 - In the gallant days of swing wing fighter planes

25.00€

TTC

N°1037 - Avro LANCASTER - Tomcat Squadrons

25.00€

TTC

JASDF AGRESSOR ARCHIVES 01 - PHOTO BOOK. VOL 2 / 1990-2003

29.00€

TTC

MODEL ART N°14 - KI-15 "BABS", C5M, KAMIKAZE and ASAKAZE.

29.00€

TTC

JASDF F-4 PHANTOM II - PHOTO BOOK.

29.00€

TTC

N°1013 - Air war Over Tokyo - Interceptors of IJA

25.00€

TTC

N°1011 - Imperial Japanese Army & Navy Airplanes Illustrated Book vol.03

29.00€

TTC