Show only:
VALIANT WINGS PUBLISHING
Delay in delivery of titles not edited by LELA Presse may occur. Thank you for your patience, ... More titles you are interested in this collection, I can order them. Contact me on [email protected] or 0032 (0)5.55.31.08.28.
Price: 26.50 € Available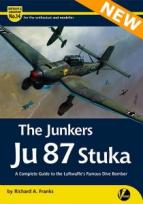 The Junkers Ju 87 Stuka- A Complete Guide To The Luftwaffe's Famous Dive...
Release of 30/04/2020
VALIANT - AIRFRAME & MINIATURE N°14
Summary of this N ° 14: - 40+ pages of technical information - 20+ pages of walk-around images and technical diagrams - 5+ pages of camouflage and markings - 25+ pages of model builds and... [read more]