Available Price: 29.50 € VAT included 5.50 % : 1.54 €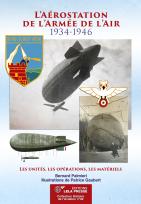 L'AÉROSTATION de l'Armée de l'Air - 1934-1946. Les unités, les opérations, les matériels.
Release of 19/06/2019
Author:
Bernard Palmiéri
Edition:
Collection Histoire de l'Aviation N°40
ISBN :
978-2-37468-022-4
Few people know that in 1939-1940, 1,000 Air Force airmen took part in war operations against Germany: 49 observation companies were dedicated to large land units on the North and East fronts and 55 sections of protection balloons protected the capital, the major industrial sites and communication nodes, all over the territory. For the very first time, Bernard Palmieri details in this book the action of these unknown units, from the time of peace of the 20s-30s to the time of war, through their commitment on the ground, their equipment, their personnel and their badges.
With more than a hundred photos and documents reproduced, about 40 badges and about 8 color profiles.
Format : A4
Pages number : 128
Pictures number : 100
Language : French
Color profiles : 8
Available Price: 29.50 €
Avions-bateaux suggestions :
Les AÉROPLANES VOISIN

39.00€

TTC

Du Fw 190 au NC 900. Usines souterraines et blindées en France.

64.00€

TTC

SAMOURAÏ sur Porte-avions - Tome II.

59.00€

TTC

Carrier-borne SAMOURAÏ - Tome I .

55.00€

TTC

LES AVIONS BREGUET. Vol.2 - Le règne du Monoplan.

59.00€

TTC

Breguet aeroplanes Volume I - the biplane era.

59.00€

TTC

GUADALCANAL, Cactus Air Force against Imperial Navy. Vol.02.

59.00€

TTC