Available Price: 65.00 € VAT included 5.50 % : 3.39 €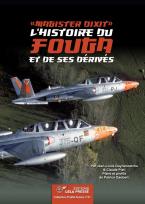 "Magister dixit". L'Histoire du Fouga et de ses dérivés.
Release of 18/12/2020
Author:
Par Jean-Louis Gaynecoetche & Claude Piet
Edition:
Collection Profils Avions N°31
ISBN :
978-2-37468-036-1
If you ask the question: name a plane from the Patrouille de France, the answer will be ... the Fouga! Built in more than 900 units (plus about 30 for its cousin the Zephyr), this emblematic bird has trained thousands of military pilots around the world and over several generations. He also made the powder speak in various local conflicts on almost every continent. Nowadays, many copies are still flying in the hands of collectors, especially in France and the United States. But it is also, beyond being an industrial technological success in a difficult post-war period, a human success. At all levels, the actors of this great adventure have surpassed themselves to overcome difficulties and failures, but also tragedies.

With 496 pages, more than 1,200 photos, 13 color profiles and 11 plans by Patrice Gaubert.
We talk about it on the Net and in the Press:

FACEBOOK comments:
JL. S - Great art, the result of an extraordinary amount of work! Hat Gentlemen !!!
M.S - What a paving stone! This book is beautiful with the remarkable photos. What work ! Well done to the authors
M.G. - Congratulations to the authors, ordered copy received today and superb discovery on first leafing. Beautiful book, richly illustrated. Bravo once again to Lela Presse for allowing the authors of monographs to be able to edit and distribute their colossal work of iconographic research.
C.F. - I received it this afternoon, mazette what a crazy job, and what iconography !!! Bravo Jean-Louis and Claude for the work accomplished and to LELA Presse editions for giving it the deserved setting !!!
C.L. - Yes, wonderful that work for such a result BRAVO to you both
E.C.C. - Well received today. Wahoo ... Thank you for this wonderful work !!!
J.Y.S. - Magnificent work. A big bravo!
E.B. - Superb work! Very nice job. Hats off to the authors, and a big thank you to the editors who allow us to have this book in our hands.
J.H. - It is huge, a brick, a directory, superb work of the authors.
C.C.B. - The leaping Basque!
P.B. - An OUF job that our two friends did. It's amazing the intelligence we've collected about this little butterfly that has transformed so many military pilots around the world. Bravo Jean-Louis and Claude, this is really the benchmark that was missing on the Fouga and its derivatives.
B.P. - Book received, a big thank you to both of you and congratulations on this book which will undoubtedly stand out.
B.V. - I also received the book. A big thank-you. I have no doubt for a moment that this book will be THE reference on Fouga.


Format : A4
Pages number : 496
Pictures number : 1200
Language : French
Color profiles : 12
Available Price: 65.00 €
Avions-bateaux suggestions :
VAMPIRE et MISTRAL Français. Tome 02

59.00€

TTC

Le SA 330 PUMA

55.00€

TTC

VAMPIRE et MISTRAL Français. Tome 01

59.00€

TTC

Les C-47 sous nos Cocardes.

59.00€

TTC

Le Flamant & ses dérivés.

59.00€

TTC

Les Hydravions de la Luftwaffe. Vol.02. Sold out!

55.00€

TTC

Les Hydravions de la Luftwaffe. Vol.01. Out of print !

53.00€

TTC