En Précommande Price: 65.00 € VAT included 5.50 % : 3.39 €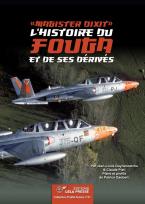 "Magister dixit". L'Histoire du Fouga et de ses dérivés.
Release of 20/12/2020
Author:
Par Jean-Louis Gaynecoetche & Claude Piet
Edition:
Collection Profils Avions N°31
ISBN :
Publication in NOVEMBER 15, 2020 - FREE SHIPPING until this DATE! An EXCELLENT GIFT IDEA for CHRISTMAS!
Offer reserved for individuals, non-contractual date.

Prefer payment by Visa / MasterCard that you will send by post or Email ([email protected]). It will not be cashed until publication. Exclusive to LELA PRESSE! Please make only one check per book purchased.
Orders paid directly on the site will be debited immediately. ORDER FORM in PDF attached.


If you ask the question: name a plane from the Patrouille de France, the answer will be ... the Fouga! Built in more than 900 units (plus about 30 for its cousin the Zephyr), this emblematic bird has trained thousands of military pilots around the world and over several generations. He also made the powder speak in various local conflicts on almost every continent. Nowadays, many copies are still flying in the hands of collectors, especially in France and the United States. But it is also, beyond being an industrial technological success in a difficult post-war period, a human success. At all levels, the actors of this great adventure have surpassed themselves to overcome difficulties and failures, but also tragedies.

With 496 pages, more than 1,200 photos, 13 color profiles and 11 plans by Patrice Gaubert.
Format : A4
Pages number : 496
Pictures number : 1200
Language : French
Color profiles : 12
En Précommande Price: 65.00 €
Avions-bateaux suggestions :