Available Price: 59.00 € VAT included 5.50 % : 3.08 €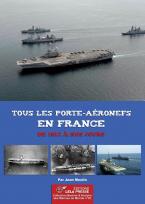 Tous les porte-aéronefs en France de 1912 à nos jours.
Release of 18/12/2020
Author:
Jean MOULIN
Edition:
Collection Navires & Histoire du Monde N°35
ISBN :
978-2-37468-035-4
Since 1912, aircraft carriers have been in service in the French Navy.
The seaplane carriers of the First World War were followed in 1928 by a first aircraft carrier, the Béarn. Expired, it is not engaged in combat during the Second World War but the personnel it trained allows in 1945 the reconstitution of an on-board avation which will have two aircraft carriers of British origin, the Dixmude and the 'Arromanches and then two former Americans, La Fayette and Bois Belleau, widely involved in Indochina.
The Clemenceau and the Foch, of national construction, served between 1960 and 2000 with
homogeneous air groups and intervene in many troubled areas.
A new generation appeared in 2000 with the Charles de Gaulle and the Rafale.

The whole is written on 336 pages, with approximately 640 photos and 90 diagrams and color profiles.
Format : A4
Pages number : 336
Pictures number : 640
Language : French
Color profiles : 30
Available Price: 59.00 €
Avions-bateaux suggestions :
Les sous-marins de la Kriegsmarine 1935-1945. Les "loups gris" de Dönitz - Vol. 1

55.00€

TTC

Les sous-marins de la Kriegsmarine 1935-1945. Les "loups gris" de Dönitz - Vol. 2

55.00€

TTC

Les CUIRASSÉS "Échantillons". Tome 01 : Brennus, Carnot, Charles Martel.

55.00€

TTC

LA MARINE IMPÉRIALE RUSSE de 1870 à sa chute.

49.90€

TTC

Les ESCORTEURS RAPIDES.

59.00€

TTC

Les Frégates furtives type « La Fayette ».

25.00€

TTC

The French Navy during the Great War - The forgotten combattants. Volume 2

29.90€

TTC