En Précommande Price: 55.00 € VAT included 5.50 % : 2.87 €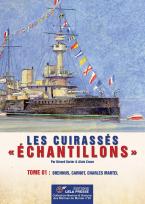 Les CUIRASSÉS "Échantillons". Tome 01 : Brennus, Carnot, Charles Martel.
Release of 30/04/2020
Author:
Gérard Garier & Alain Croce
Edition:
Collection Marines du Monde N°29
ISBN :
978-2-37468-023-1
Release APRIL 2020 - FREE POST until this DATE!
Offer reserved for individuals, non-contractual date, printing launched when the pre-sales objective will be reached. 200 sales are needed. To date 63 books have been sold.

Prefer payment by Visa / MasterCard that you will send by post. It will not be cashed until publication. Exclusive at LELA PRESS!
Orders paid directly on the site will be with immediate debit. ORDER FORM in PDF (2) attached.
This book includes the characteristics and history of three battleships Brennus, Carnot and Charles Martel.
Despite its youthful setbacks, the Brennus is most interesting because it breaks sharply with its predecessors with the caliber unit of its main armament in closed turrets of 340 mm and a secondary armament with the excellent gun of 164.7 mm rapid fire. When compared with the foreign battleships of the same period, he holds his rank well.
Throughout his career he will bear the mark of admirals.
For the construction of the following units, the French navy could have inspired the Brennus by modifying and improving it to obtain a battleship of equal or superior value to contemporary foreign vessels.
Alas, the opposite has happened and instead of moving forward, the following battleships of the "1890 Program" will be lower in all areas at Brennus. They will be baptized Carnot, Charles Martel, Jauréguiberry, Bouvet and Masséna. Built on the ideas of the "Young School" whose supporters are in power, these five battleships will receive the unflattering name of "fleet of samples", because built in five yards, with different plans, and according to personal ideas construction engineers of these sites; they will have completely different silhouettes. Only their main and secondary armament will be the same as well as the number of pieces and their disposition (except for the Jauréguiberry which will have four double turrets of 138 mm instead of eight simple turrets). The displacement will not exceed 12 000 t and the speed 18 knots. The first two battleships "samples" are studied in this volume: Volume 1.
All on 272 pages, with 392 photos, 88 plans and diagrams, 12 profiles and 6 watercolors by Jean Bladé (†).

Volume 2, will include the last three "Samples" Jauréguiberry, Bouvet and Masséna, to this group of battleships we will add the Henri IV, unique and original building.
Discover the 15 pages of this book thanks to PDF.
Format : A4
Pages number : 272
Pictures number : 392
Language : French
Color profiles : 12
En Précommande Price: 55.00 €
Avions-bateaux suggestions :