Show only:
PROMOS Librairie MARITIME
PROMOS on the site with -40% on some books. While stocks last. Take the opportunity !
Price: 10.00 € 7.00 € Bientôt en rupture
Tamon Yamaguchi. -30%
Release of 1/01/2015
MARU - KOJINSHA
This booklet is dedicated to the famous Japanese admiral Tamon Yamaguchi who was at the head of the 2nd Carrier Division from 1940 to his death at Midway in 1942 on board his flagship Hiryu. in... [read more]
Price: 22.00 € 13.20 € Bientôt en rupture
N°37 - 3D CG Battle of IJN vs US Battleships 1942. -40%
Web exclusive!
Release of 1/07/2007
FUTABASHA n°47930 (37)
A collection of works in which image is in 3D. There are computer simulations between the best of the Imperial Japanese Navy against the best in the US Navy during World War II. Great! [read more]
Price: 26.00 € 15.60 € Available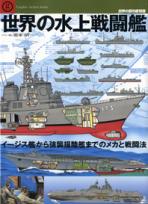 Warship of the World -40%
Release of 5/03/2007
BunrinDo Special Bateaux n°19-146.
Special issue by reviewing the differet types of ships of the world separated but still mainly American, and their use , all through very well done diagrams and color.... [read more]