Available Price: 12.00 € VAT included 2.10 % : 0.25 €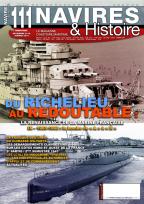 NAVIRES & HISTOIRE N°111
Release of 26/11/2018
Author:
Edition:
Du Richelieu au Redoutable. La renaissance de la Marine Française. (IX) - 1965-1968 : la bombe de "A" à "H"
ISBN :
Contents of this N ° 111:
- The tragic destiny of the Battleship Oslyabya.
- Illegal landings on the North and West coasts of France. 5th part: 2nd semester 1943.
- From Richelieu to the Redoutable. The rebirth of the French Navy. (IX) - 1965-1968: the bomb from "A" to "H"
- LCI (L) in Indochina, 1946-1955. II - The indispensable support and command buildings.
- News.
Format : A4
Pages number : 96
Pictures number : 200
Language : French
Color profiles : 10
Available Price: 12.00 €
Avions-bateaux suggestions :
NAVIRES & HISTOIRE N°116

12.00€

TTC

NAVIRES & HISTOIRE N°115

12.00€

TTC

ABONNEMENT NAVIRES & HISTOIRE 1 AN

72.00€

TTC

NAVIRES & HISTOIRE N°114. Out of print !

12.00€

TTC

NAVIRES & HISTOIRE N°113

12.00€

TTC

NAVIRES & HISTOIRE N°112

12.00€

TTC

NAVIRES & HISTOIRE N°110.

12.00€

TTC