Available Price: 12.00 € VAT included 2.10 % : 0.25 €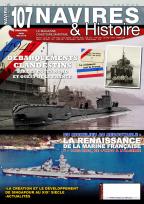 NAVIRES & HISTOIRE N°107.
Release of 23/03/2018
Author:
Edition:
Du Richelieu au Redoutable : la renaissance de la Marine française V - 1953-1955, de l'Indo à l'Algérie.
ISBN :
"The message is the medium" (Marshall McLuhan)
More and more people are reporting the lack of information on major international issues in the media (1). You have to say
that transmission, which is the journalist's most essential task, has become almost impossible as the communication system is
parasitic and ubiquitous noise (buzz) ... This phenomenon is worsening day by day and, unless you bury your head in the sand and practice the
ostrich, we must resolve the paradox that an information society is literally and literally a society of the
misinformation and emotional turmoil (2). Nevertheless, this misinformation remains information, that is to say information that
confirms Marshall McLuan's formula "the message is the medium". It informs us about the change of scale of
(medium) media in a technician and post-humanist environment, where our personal and collective lives are encompassed themselves
in the information process ...
... At this point, the most reasonable is certainly to mourn a time when information was relatively secure and resolve to
this loss of enlightenment on the situations. On our side, as it is not very elegant to write the texts on the news in the conditional
or dotted with the formula "subject", the reader must take those we are trying nevertheless to transmit, with tweezers, with
retain, to chew, to question them, it is true that, as the sociologist William Isaac Thomas has beautifully said, "When the
men consider certain situations as real, they are real in their consequences.
Frederic Stahl
1 -By "information" we mean here factual data, circumstantial, placed in their context and obeying the chronological order.
2 - This misinformation created by the partial information flow is not specially intentional, but it tells us that the worst enemy of the technician system and
of the world of growth is what could stand in the way of the incessant and growing flows that serve as ends.

- Mail of the readers
- Illegal landings on the North and West coasts of France (2nd part - 1941).
- From the Richelieu to the Redoutable: the revival of the French Navy V - 1953-1955, from Indo to Algeria.
- The creation and development of Singapore in the nineteenth century (1819-1900).
- NEWS: the topic of cephaloclastophils. The puzzles of maritime news.
Format : A4
Pages number : 96
Pictures number : 204
Language : French
Color profiles : 10
Available Price: 12.00 €
Avions-bateaux suggestions :
NAVIRES & HISTOIRE N°116

12.00€

TTC

NAVIRES & HISTOIRE N°115

12.00€

TTC

ABONNEMENT NAVIRES & HISTOIRE 1 AN

72.00€

TTC

NAVIRES & HISTOIRE N°114. Out of print !

12.00€

TTC

NAVIRES & HISTOIRE N°113

12.00€

TTC

NAVIRES & HISTOIRE N°112

12.00€

TTC

NAVIRES & HISTOIRE N°111

12.00€

TTC