Available Price: 12.00 € VAT included 2.10 % : 0.25 €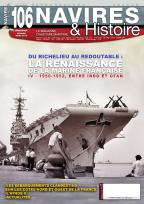 NAVIRES & HISTOIRE N°106.
Release of 25/01/2018
Author:
Edition:
Du Richelieu au Redoutable : la renaissance de la Marine française IV - 1950-1952, entre Indo et OTAN.
ISBN :
EDITO : Information on the "Gutenberg Galaxy"

"The free communication of thoughts and opinions is one of the most precious rights of man: every citizen can therefore speak, write, print freely, except to respond to the abuse of this freedom in cases determined by the law" (Article 11 of the French Declaration of the Rights of Man and the Citizen of 1789 and Article 19 of the Universal Declaration of Human Rights)

PRESSTALIS, our magazine distributor has been placed under guardianship with a debt of 37 million euros. To cover this, it has been established, without asking anyone's notice, to collect 25% of all publisher payments during the months of December and January, and we have no guarantee that this will be the case. not be prolonged. It is a big sum for us and our cash is put to a severe test. We remain very worried because the future is uncertain ... The publishing world is on the alert and some publishers panic: it must be said that there is something.
Dominant, almost hegemonic in the distribution market with 100% of daily newspapers and 80% of magazines, we are entitled to ask ourselves how a press courier company that takes more than half of the public price of magazines it distributes (52% less than it returns to retailers-resellers) and that affects in addition to many public subsidies, can it put itself in the red following "officially" the purchase of a software that will be deficient. Certainly, as a small shareholder, we must show solidarity, but up to a quarter of our share to write, illustrate, create, realize, print, it's a bit much, especially since we already have been solicited in 2012 to save this company from bankruptcy ...

Admittedly, the paper press was hit hard by the digital surge, but LELA Presse has been able to ride the wave thanks to the loyalty of its readership. It is therefore a healthy society that hits this measure.
In the long run, it seems clear that the future of specialized magazines depends to a large extent on a subscriptions policy and we are looking for a flexible and adapted form for them so that those who can not to commit for one or two years to receive our publications at home.

"Subscribe, subscribe, you will see the country!" And as for Ships and History you will be able to sail through time on all the seas of our planet.

Our determination remains intact for this new year 2018 which, we hope, will be for you a time of harmony and serenity ...

In this N ° 106:
- Illegal landings on the North and West coasts of France (1st part - 1940).
- From the Richelieu to the Redoutable: the revival of the French Navy IV - 1950-1952, between Indo and NATO.
- Athos II.
- News: the heading of cephaloclastophiles the puzzle of the maritime news.
About 260 photos, 14 maps and 8 profiles.
Format : A4
Pages number : 96
Pictures number : 260
Language : French
Color profiles : 8
Available Price: 12.00 €
Avions-bateaux suggestions :
NAVIRES & HISTOIRE N°116

12.00€

TTC

NAVIRES & HISTOIRE N°115

12.00€

TTC

ABONNEMENT NAVIRES & HISTOIRE 1 AN

72.00€

TTC

NAVIRES & HISTOIRE N°114. Out of print !

12.00€

TTC

NAVIRES & HISTOIRE N°113

12.00€

TTC

NAVIRES & HISTOIRE N°112

12.00€

TTC

NAVIRES & HISTOIRE N°111

12.00€

TTC