Available Price: 12.00 € VAT included 2.10 % : 0.25 €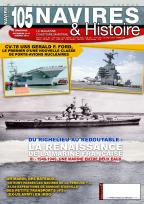 NAVIRES & HISTOIRE N°105
Release of 23/11/2017
Author:
Edition:
Du Richelieu au Redoutable : la renaissance de la Marine française III.
ISBN :
TO THE SUMMARY of this No. 105:
- CV-78 USS Gerald F. Ford, the first of a new class of nuclear aircraft carriers.
- From the Richelieu to the Redoutable: the revival of the French Navy III - 1948-1949, a navy between two waters.
- A MARINE, BOATS ... Where have the ships of La Pérouse passed? ...
- The expeditions of Dumont d'Urville
- Small transport "FS" (ex-US Army) in Indo.
- News: the heading of cephaloclastophiles, the puzzle of maritime news.
Format : A4
Pages number : 96
Pictures number : 200
Language : French
Color profiles : 10
Available Price: 12.00 €
Avions-bateaux suggestions :
NAVIRES & HISTOIRE N°116

12.00€

TTC

NAVIRES & HISTOIRE N°115

12.00€

TTC

ABONNEMENT NAVIRES & HISTOIRE 1 AN

72.00€

TTC

NAVIRES & HISTOIRE N°114. Out of print !

12.00€

TTC

NAVIRES & HISTOIRE N°113

12.00€

TTC

NAVIRES & HISTOIRE N°112

12.00€

TTC

NAVIRES & HISTOIRE N°111

12.00€

TTC