Show only:
MMP BOOKS - STRATUS
MMP is run by enthusiasts for enthusiasts. The books are well documented with photos and quality illustrations.
Delay in delivery of titles not edited by LELA Presse may occur. Thank you for your patience, ... More titles you are interested in this collection, I can order them. Contact me on contact@avions-bateaux.com or 0032 (0)5.55.31.08.28.
Price: 41.00 € Available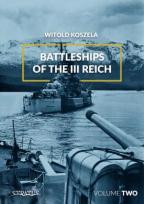 Battleships Of The Third Reich Vol. 2.
Release of 13/02/2019
MMP BOOKS - SERIE MARITIME KO03
The second and final volume which tells the stories of, and illustrates, all the German battleships that were in Kriegsmarine service during WWII. The author describes the history of the ships in... [read more]