Show only:
MONOGRAPHIES ARGENTINES
Delay in delivery of titles not edited by LELA Presse may occur. Thank you for your patience, ... More titles you are interested in this collection, I can order them. Contact me on contact@avions-bateaux.com or 0032 (0)5.55.31.08.28.
Price: 19.50 € Available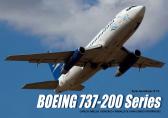 BOEING 737-200 SERIES
Release of 30/06/2019
Monographies Argentines - Serie Aerolineas N°13.
Booklet dedicated to the Boeing 737-200 used by various Argentinian air companies. With many rare and nice colour photos. [read more]