Available Price: 25.00 € VAT included 5.50 % : 1.30 €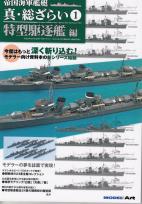 MODEL ART N°985 - FUBUKI Class. Special type destroyer 1941.
Release of 10/02/2018
Author:
Edition:
MODEL ART
ISBN :
Special issue dedicated to the Fubuki-class destroyers of the IJN ; there were 24 ships divided in 6 groups. Though mainly about models, this issue is very interesting as it shows the evolution of the class and also the differences between the ships. It is widely illustrated with photos and scale drawings.
Format : 18.5 X 25.5
Pages number : 176
Pictures number : 300
Language : Japanese
Color profiles :
Available Price: 25.00 €
Avions-bateaux suggestions :
American Aircraft Carrier Material Photo Book 1920s-1945

29.90€

TTC

MODEL ART N°76 - The world of a vessel Model Diorama Fascinated by the production.

25.00€

TTC

MODEL ART N°75 - Light Cruiser Type "Kuma", "Nagara", "Sendai".

24.00€

TTC

MODEL ART N°74 - IJN Heavy cruiser Mogami/Suzuya Type & Ibuki.

24.00€

TTC

MODEL ART N°73 - IJN battleship at the beginning of Pacific War.

24.00€

TTC

MODEL ART N°72 - Modeling & Painting Techniques

23.00€

TTC

MODEL ART N°71 - YAMATO Last Stand

23.00€

TTC