Available Price: 29.00 € VAT included 5.50 % : 1.51 €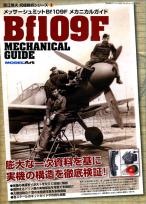 Model Art Mechanical Guide N°01 - The Messerschmitt Bf 109F.
Release of 10/06/2013
Author:
Edition:
ISBN :
This book from Japan follows another recent book published by Kagero about the Bf 109 F. But the content is quite different and we get here something more on the "technical side" with colour photos, camouflage scheme and stencils, a splendid photoseries of a restaured machine, black & white photos and a number of pages extracted from the technical manual. Very nice !
Format : 18 X 25.5
Pages number : 160
Pictures number : 200
Language : Japanese
Color profiles : 12
Available Price: 29.00 €
Avions-bateaux suggestions :
MODEL ART N°14 - KI-15 "BABS", C5M, KAMIKAZE and ASAKAZE.

29.00€

TTC

N°1013 - Air war Over Tokyo - Interceptors of IJA

25.00€

TTC

JASDF F-4 PHANTOM II - PHOTO BOOK.

29.00€

TTC

N°1011 - Imperial Japanese Army & Navy Airplanes Illustrated Book vol.03

29.00€

TTC

N°997 - Imperial Japanes Army Fighters WWII.

29.00€

TTC

N°961 - U.S. NAVY Modern Fighters & Attackers.

29.00€

TTC

MODEL ART - KAWASAKI Ki61- II HIEN (TONY) "Record of restoration-Engine & Equipments"

29.00€

TTC