Available Price: 9.50 € 4.30 € VAT included 2.10 % : 0.20 €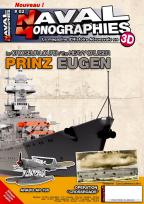 NAVAL MONOGRAPHIES N°02 - The Heavy Cruiser PRINZ EUGEN. - 55%
Release of 17/05/2013
Author:
Divers
Edition:
The Naval History magazine 3D
ISBN :
EDITORIAL

After the euphoria of the first issue, it is time to get to cruising speed for our magazine and not rest on one's laurels. We will keep listening to your comments and suggestions as they will help us achieve our aim to provide you the best product and most complete documentation possible.

As you see, this second issue is devoted to the Prinz Eugen, a heavy cruiser of the Kriegsmarine during the Second World War. Every large vessel of the German Navy is still famous. While they were not numerous, they were the cause of much concern on the other side of the Channel. Indeed, the Royal Navy was so worried by any of their movements that they were under very close surveillance. Still one has to ask: just how successful were they and ultimately how beneficial were they to the Reich? If we study in detail the story of these ships, (Bismarck, Tirpitz, Scharnhorst, Gneisenau, Prinz Eugen, Admiral Hipper, Graf Spee, etc...), it is ascertained that, apart from a few sorties in the Atlantic or in the North Sea, during which a few merchant men were sunk, very little was actually achieved. Even though Bismarck is famous for having sunk the Hood, in company with Prinz Eugen, her career came abruptly to an end a little time afterwards. Tirpitz spent the whole war, or nearly so, hiding in the Norwegian fjords, to escape the persistent hunt led by the British. Only the cruisers, Prinz Eugen specifically among them, would fire their guns, but only at the end of the war in the Baltic Sea while trying to slow down the advance of the Soviet army. In reality these were quite scant results for such large ships, at a time when aircraft-carriers were becoming the capital ships of the most powerful fleets. Aircraft were a far more dangerous weapon than these large vessels.

However, they undoubtedly were elegant and that is the reason why we chose to highlight Prinz Eugen in this second issue, a ship designed to counter the Soviet "Kirov" class as well as our cruiser Algérie, a nice ship her own right. We invite you now to discover her in the following pages, without forgetting "her eyes", the Arado 196 floatplane which could be found on every German catapult-equipped ship.


Contents of this No. 02 :
- The Heavy Cruiser PRINZ EUGEN.
- The CROSSROADS operation.
- The ARADO AR 196.
Format : A4
Pages number : 80
Pictures number : 150
Language : French / English
Color profiles : 40
Available Price: 4.30 €
Avions-bateaux suggestions :
NAVAL MONOGRAPHIES N°01 - The battleship RICHELIEU - Out of print !

9.50€

TTC