Available Price: 12.00 € VAT included 2.10 % : 0.25 €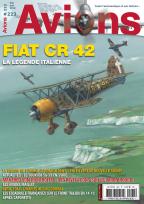 AVIONS N°223
Release of 27/04/2018
Author:
Edition:
Fiat CR 42: an Italian legend.
ISBN :
In this issue n ° 223:
- Fiat CR 42: an Italian legend (1st part). By Luigino Caliaro.
- ARAWASI, the "wild eagles" of the Japanese imperial army. Part 7: The Green Hell of New Guinea. By Bernard Baëza.
- Manfred von Richthofen, the ace of the First World War. 1st part: before the Red Baron. By David Méchin, with the participation of Christophe Cony.
- Ikarus IK-2, the Yugoslavian gull in action (last part). By Ognjan Mr. Petrovi? and Aleksandar M. Ognjevi?.
- The Maillet planes. 2nd part: Maillets 20/21 at Maillet-Lignel 20 of record. By Philippe Ricco.
- News: Su-kh Su-33 (full story). The last interceptor embarked on the Syrian war. By Stéphane Nicolaou.
- French squadrons on the Venetian front (1917-1918). 3rd part: the reinforcements after Caporetto. By Luigino Caliaro and Roberto Gentilli, with the collaboration of Christophe Cony.
Format : A4
Pages number : 96
Pictures number : 195
Language : French
Color profiles : 35
Available Price: 12.00 €
Avions-bateaux suggestions :
AVIONS N°235

12.00€

TTC

AVIONS N°234

12.00€

TTC

AVIONS N°233

12.00€

TTC

AVIONS N°232

12.00€

TTC

AVIONS N°231

12.00€

TTC

AVIONS N°230

12.00€

TTC

AVIONS N°229 - out of print !

12.00€

TTC