Available Price: 75.00 € 37.50 € VAT included 5.50 % : 3.91 €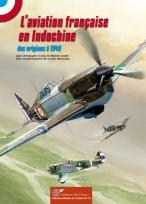 L'Aviation Française en Indochine. 1910-1945.
Release of 10/06/2012
Author:
Christophe Cony & Michel Ledet. Avec la participation de Lucien Morareau.
Edition:
Histoire de l'Aviation n°21
ISBN :
978-2-914017-63-3
The colonial war in Indochina is well known. Not so well known is the history of French aviation in the Far East. Thanks to new archive material and aided by many former crews, the authors present a new account of a totally unknown period, including a details of the war against Thailand. Civil aviation (aeroclubs), Air France and the Naval aviation are also deeply detailed. Features many previously unpublished photos and new colour artworks. 640 pages, over 1 300 photos and 120 color profiles.

Format : A4
Pages number : 640
Pictures number : 1300
Language : French
Color profiles : 120
Available Price: 37.50 €
Avions-bateaux suggestions :
L'AÉROSTATION de l'Armée de l'Air - 1934-1946. Les unités, les opérations, les matériels.

29.50€

TTC

Les AÉROPLANES VOISIN

39.00€

TTC

Du Fw 190 au NC 900. Usines souterraines et blindées en France.

64.00€

TTC

SAMOURAÏ sur Porte-avions - Tome II.

59.00€

TTC

Carrier-borne SAMOURAÏ - Tome I .

55.00€

TTC

LES AVIONS BREGUET. Vol.2 - Le règne du Monoplan.

59.00€

TTC

Breguet aeroplanes Volume I - the biplane era.

59.00€

TTC