Available Price: 25.00 € VAT included 5.50 % : 1.30 €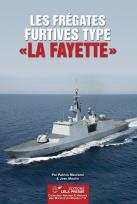 Les Frégates furtives type « La Fayette ».
Release of 13/07/2018
Author:
Patrick Maurand & Jean Moulin.
Edition:
Collection Navires & Histoire du Monde N°31
ISBN :
978-2-37468-009-5
The five "La Fayette" type frigates are the first stealthy warships. Their appearance, in the mid-nineties, marks the beginning of a new trend in naval aesthetics. These five buildings, based in Toulon, are well adapted to crisis situations and are widely used for surveillance in troubled areas.
About 160 pages, 230 photos, plans and 5 maps.
Format : A4
Pages number : 160
Pictures number : 230
Language : French
Color profiles :
Available Price: 25.00 €
Avions-bateaux suggestions :
LA MARINE IMPÉRIALE RUSSE de 1870 à sa chute.

49.90€

TTC

Les CUIRASSÉS "Échantillons". Tome 01 : Brennus, Carnot, Charles Martel.

55.00€

TTC

Les ESCORTEURS RAPIDES.

59.00€

TTC

The French Navy during the Great War - The forgotten combattants. Volume 2

29.90€

TTC

The YAMATO Class CUIRASSES.

49.00€

TTC

The French Navy during the Great War - The forgotten combattants. Volume 1

29.90€

TTC

LES AVISOS DRAGUEURS DE 630 TW DU TYPE 'ELAN' - Tome 2.

49.00€

TTC