Not available Price: 62.00 € VAT included 5.50 % : 3.23 €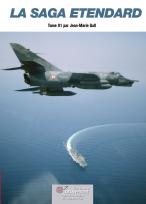 La SAGA ETENDARD. Tome 01. Out of print !
Release of 26/11/2018
Author:
J. Marie GALL
Edition:
Collection Histoire de l'Aviation n°23.
ISBN :
978-2-37468-012-5
REPRINT IN 2018.
For nearly forty years, the General Aviation Aviation's Étendard IV has worn French cockades in Naval Aeronautics in the Atlantic, the Mediterranean, the Pacific and the Indian Ocean, and the Middle East. He has continued to carry out the missions assigned to him: the Pacific Experimental Group, Lebanon, Bosnia, Kosovo, and seeking information wherever he went. Numerous illustrations and testimonies of the actors.
- Volume 01: A4 format - 328 pages - 450 photos - 23 color profiles.
Format : A4
Pages number : 328
Pictures number : 450
Language : French
Color profiles : 23
Not available Price: 62.00 €
Avions-bateaux suggestions :
L'AÉROSTATION de l'Armée de l'Air - 1934-1946. Les unités, les opérations, les matériels.

29.50€

TTC

Les AÉROPLANES VOISIN. Rest 35 copies then out of print !

39.00€

TTC

La SAGA ETENDARD. Tome 02. Sold out!

62.00€

TTC

Les CRUSADER FRANCAIS en action. Out of print !

60.00€

TTC

Du Fw 190 au NC 900. Usines souterraines et blindées en France. Out of print !

64.00€

TTC

SAMOURAÏ sur Porte-avions - Tome II.

59.00€

TTC

Carrier-borne SAMOURAÏ - Tome I .

55.00€

TTC