Available Price: 55.00 € 27.50 € VAT included 5.50 % : 2.87 €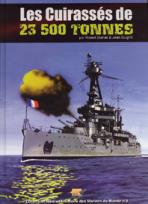 Les Cuirassés de 23 500 Tonnes.
Release of 1/04/2005
Author:
Robert DUMAS & Jean GUIGLINI
Edition:
Collection Marines du Mondes n°6
ISBN :
2-914017-27-8
This class of ships made the main body of the French Marine Nationale during the inter-war period. These 6 battleships were still in service in 1940. The Bretagne was sadly sunk by the Royal Navy at Mers-el-Kébir but the Lorraine took part in the southern France landings in 1944 ! A fully illustrated book, with technical drawings and many photos.
On December 08, 2007, the Authors were rewarded by receiving the award "Admiral Frémy" for this reason, the reference Album, awarded by the ACORAM.
Format : A4
Pages number : 192
Pictures number : 168
Language : French
Color profiles : 0
Available Price: 27.50 €
Avions-bateaux suggestions :
Les ESCORTEURS RAPIDES.

59.00€

TTC

Les Frégates furtives type « La Fayette ».

25.00€

TTC

The French Navy during the Great War - The forgotten combattants. Volume 2

29.90€

TTC

The YAMATO Class CUIRASSES.

49.00€

TTC

The French Navy during the Great War - The forgotten combattants. Volume 1

29.90€

TTC

LES AVISOS DRAGUEURS DE 630 TW DU TYPE 'ELAN' - Tome 2.

49.00€

TTC

Les CUIRASSÉS de la Classe IOWA, Vol.2.

49.00€

TTC