Not available Price: 48.00 € VAT included 5.50 % : 2.50 €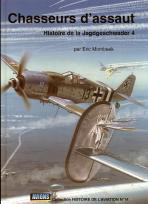 Chasseur d'Assaut, Histoire de la JG 4. Vol 01. Out of print !
Release of 1/04/2002
Author:
Eric Mombeek
Edition:
Histoire de l'Aviation n° 14
ISBN :
Eric Mombeek is a well-known Luftwaffe historian and his history of the JG 4 is another excellent account of a unit which has seldomly been reviewed. Many photos, most of them never published before, illustrate a strong and detailed text !
Format : A4
Pages number : 308
Pictures number : 420
Language : French
Color profiles : 16
Not available Price: 48.00 €
Avions-bateaux suggestions :
L'AÉROSTATION de l'Armée de l'Air - 1934-1946. Les unités, les opérations, les matériels.

29.50€

TTC

Les AÉROPLANES VOISIN. Rest 35 copies then out of print !

39.00€

TTC

La SAGA ETENDARD. Tome 01. Out of print !

62.00€

TTC

Les CRUSADER FRANCAIS en action. Out of print !

60.00€

TTC

La SAGA ETENDARD. Tome 02. Sold out!

62.00€

TTC

Du Fw 190 au NC 900. Usines souterraines et blindées en France. Out of print !

64.00€

TTC

SAMOURAÏ sur Porte-avions - Tome II.

59.00€

TTC