Available Price: 55.00 € 27.50 € VAT included 5.50 % : 2.87 €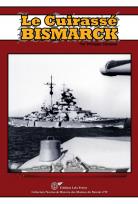 Battleship BISMARCK.
Release of 15/06/2012
Author:
Philippe CARESSE
Edition:
Collection Marine du Monde n° 19
ISBN :
978-2-914017-73-2
The Bismarck is undoubtedly one of the most famous battleships of its day. A few years ago, Philippe Caresse we had proposed a superb study of this mighty ship, which was quickly exhausted. Following repeated requests from many readers, the author proposes a revised version of his manuscript, which he added some 135 new photographs. This book will undoubtedly be a great documentation on the most famous battleship of the Kriegsmarine, whose short and tragic career has had an indelible European naval history.
192 pages, about 320 photos, numerous maps and 14 pages of detailed drawings to A3.
Attention, limited edition !

Format : A4
Pages number : 192
Pictures number : 320
Language : French
Color profiles : 15
Available Price: 27.50 €
Avions-bateaux suggestions :
Les ESCORTEURS RAPIDES.

59.00€

TTC

Les Frégates furtives type « La Fayette ».

25.00€

TTC

The YAMATO Class CUIRASSES.

49.00€

TTC

The French Navy during the Great War - The forgotten combattants. Volume 2

29.90€

TTC

The French Navy during the Great War - The forgotten combattants. Volume 1

29.90€

TTC

LES AVISOS DRAGUEURS DE 630 TW DU TYPE 'ELAN' - Tome 2.

49.00€

TTC

Les CUIRASSÉS de la Classe IOWA, Vol.2.

49.00€

TTC