Available Price: 55.00 € 27.50 € VAT included 5.50 % : 2.87 €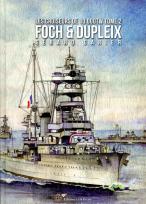 Les Croiseurs Français de 10 000tW - Tome 2. FOCH & DUPLEIX.
Release of 19/11/2012
Author:
Gérard GARIER
Edition:
Collection Marine du Monde n° 18
ISBN :
978-2-914017-68-8
This second volume deals with the last two French cruisers of 10,000 tW FOCH DUPLEIX and before the height of ALGERIA. There is also their characteristics and historical highlights of their careers short, as the transfer of the ashes of Marshal Lyautey, the operation "Vado" against Italy, the armistice and their tragic sinking November 27, 1942. In the same vein as Volume 1 spent on SUFFREN and COLBERT, it is richly illustrated with over 500 photographs, watercolors, original plans, drawings and official color profiles.
A4 size - 256 pages and 16 pages of A3 plans and profiles.
Format : A4
Pages number : 256
Pictures number : 500
Language : French
Color profiles : 20
Available Price: 27.50 €
Avions-bateaux suggestions :
Les ESCORTEURS RAPIDES.

59.00€

TTC

Les Frégates furtives type « La Fayette ».

25.00€

TTC

The YAMATO Class CUIRASSES.

49.00€

TTC

The French Navy during the Great War - The forgotten combattants. Volume 2

29.90€

TTC

The French Navy during the Great War - The forgotten combattants. Volume 1

29.90€

TTC

LES AVISOS DRAGUEURS DE 630 TW DU TYPE 'ELAN' - Tome 2.

49.00€

TTC

Les CUIRASSÉS de la Classe IOWA, Vol.2.

49.00€

TTC