Available Price: 65.00 € 32.50 € VAT included 5.50 % : 3.39 €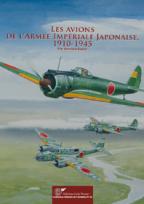 The Aircraft of the Imperial Japanese Army.
Release of 7/04/2011
Author:
Bernard Baeza
Edition:
Histoire de l'Aviation n° 25
ISBN :
978-2-914017-59-6
A comprehensive account of Imperial Japanese Army aircraft from its beginnings until final defeat in 1945. Richly illustrated, this volume is replete with many unpublished or rarely seen photographs. Not to be missed! Readers of our book "Rising Sun over Australia" will already have experienced the quality and attention to detail lavished on his books by this author and this new book will not disappoint.
Format : A4
Pages number : 514
Pictures number : 300
Language : French
Color profiles : 121
Available Price: 32.50 €
Avions-bateaux suggestions :
L'AÉROSTATION de l'Armée de l'Air - 1934-1946. Les unités, les opérations, les matériels.

29.50€

TTC

Les AÉROPLANES VOISIN

39.00€

TTC

Du Fw 190 au NC 900. Usines souterraines et blindées en France.

64.00€

TTC

SAMOURAÏ sur Porte-avions - Tome II.

59.00€

TTC

Carrier-borne SAMOURAÏ - Tome I .

55.00€

TTC

LES AVIONS BREGUET. Vol.2 - Le règne du Monoplan.

59.00€

TTC

Breguet aeroplanes Volume I - the biplane era.

59.00€

TTC