Available Price: 17.50 € VAT included 2.10 % : 0.36 €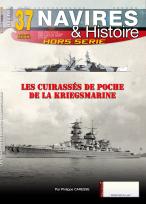 LES CUIRASSÉS DE POCHE DE LA KRIEGSMARINE
Release of 19/06/2019
Author:
Philippe Caresse
Edition:
HORS-SÉRIE NAVIRES & HISTOIRE N°37.
ISBN :
From the suffocating heat of the Indian Ocean to the freezing temperatures of the Arctic Circle, pocket battleships will have been the Kriegsmarine's most furrowed ships during the Second World War.
Very active during the first half of the conflict, they will be made famous by the raids of the Graf Spee, the Admiral Scheer and the Battle of the Barents Sea. Only the Graf Spee will have proven its value in combat during a famous naval battle, the two survivors of the class will always be handicapped by the unreliability of their machines and their reduced speed. From 1944, they will be relegated to the role of fire support to support the retreat of the Wehrmacht and will repatriate civilians and soldiers during the last months of the war. Finished without glory, they will end up with big caliber bombs in the bases of Pomerania and Schleswig Holstein.
Embellished with 240 photos, 34 color profiles, 8 maps & 16 shots.
Format : A4
Pages number : 128
Pictures number : 240
Language : French
Color profiles : 34
Available Price: 17.50 €
Avions-bateaux suggestions :
LES SOUS-MARINS DE LA KRIEGSMARINE 1935-1943 5éme partie : La fin.

17.50€

TTC

Le tournant de la Bataille de l'Atlantique : Convoi ONS 5.

17.50€

TTC

BATTLESHIPS CLASS '' SOUTH DAKOTA ''.

17.50€

TTC

Les Destroyers de l'US Navy, Tome 3 : Les Benson, Gleaves et Fletcher à l'épreuve du feu.

17.50€

TTC

LES CUIRASSÉS DE LA CLASSE "NORTH CAROLINA".

17.50€

TTC

Les Destroyers de l'US Navy, Tome 2: Des Farragut aux Sims, les constructions d'entre-deux guerres.

17.50€

TTC

Les Poches de l'Atlantique.

17.50€

TTC