Available Price: 17.50 € VAT included 2.10 % : 0.36 €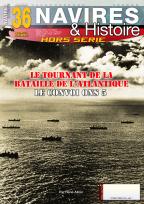 Le tournant de la Bataille de l'Atlantique : Convoi ONS 5.
Release of 20/03/2019
Author:
René Alloin
Edition:
HORS-SÉRIE NAVIRES & HISTOIRE N°36.
ISBN :
HS No. 36 - ISSUED MARCH 29, 2019!

Until April 1943, the U-Boote inflicted considerable losses on Allied convoys despite the increase in escorts and the development of new weapons. The ONS 5 convoy will undergo, during the first part of its voyage, a violent attack unchecked by dozens of submarines formed in packs but, after having been game, the allied defenses will show the efficiency of their new technologies. and become fearsome hunters who will destroy many assailants. It is the great turning point of the Battle of the Atlantic that this special issue tells.

All on 112 pages and 320 photos.
Format : A4
Pages number : 112
Pictures number : 320
Language : French
Color profiles :
Available Price: 17.50 €
Avions-bateaux suggestions :
LES SOUS-MARINS DE LA KRIEGSMARINE 1935-1943 5éme partie : La fin.

17.50€

TTC

LES CUIRASSÉS DE POCHE DE LA KRIEGSMARINE

17.50€

TTC

BATTLESHIPS CLASS '' SOUTH DAKOTA ''.

17.50€

TTC

Les Destroyers de l'US Navy, Tome 3 : Les Benson, Gleaves et Fletcher à l'épreuve du feu.

17.50€

TTC

LES CUIRASSÉS DE LA CLASSE "NORTH CAROLINA".

17.50€

TTC

Les Destroyers de l'US Navy, Tome 2: Des Farragut aux Sims, les constructions d'entre-deux guerres.

17.50€

TTC

Les Poches de l'Atlantique.

17.50€

TTC