Available Price: 17.50 € VAT included 2.10 % : 0.36 €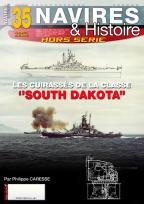 BATTLESHIPS CLASS '' SOUTH DAKOTA ''.
Release of 18/01/2019
Author:
Philippe Caresse
Edition:
HORS-SÉRIE NAVIRES & HISTOIRE N°35.
ISBN :
The second generation of the new battleships of the US Navy would prove to be a formidable war machine. The South Dakota, Indiana, Massachusetts and Alabama will be seen in virtually all the engagements and landings made by the Navy of Uncle Sam.
Sensitive improvement of their predecessors, the '' North Carolina '', they had a more elegant silhouette, but still suffered from a relatively modest speed, which did not prevent them from holding a place of honor in the various operations of the Pacific War.
This new issue outlines the various technical aspects of these four liners and their history; it is illustrated by 240 photos, 11 shots and 3 color profiles.

PUBLISHED JANUARY 18, 2019.
Format : A4
Pages number : 112
Pictures number : 240
Language : French
Color profiles : 3
Available Price: 17.50 €
Avions-bateaux suggestions :
LES SOUS-MARINS DE LA KRIEGSMARINE 1935-1943 5éme partie : La fin.

17.50€

TTC

LES CUIRASSÉS DE POCHE DE LA KRIEGSMARINE

17.50€

TTC

Le tournant de la Bataille de l'Atlantique : Convoi ONS 5.

17.50€

TTC

Les Destroyers de l'US Navy, Tome 3 : Les Benson, Gleaves et Fletcher à l'épreuve du feu.

17.50€

TTC

LES CUIRASSÉS DE LA CLASSE "NORTH CAROLINA".

17.50€

TTC

Les Destroyers de l'US Navy, Tome 2: Des Farragut aux Sims, les constructions d'entre-deux guerres.

17.50€

TTC

Les Poches de l'Atlantique.

17.50€

TTC