Available Price: 17.50 € VAT included 2.10 % : 0.36 €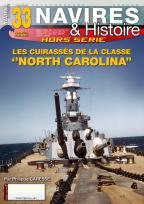 LES CUIRASSÉS DE LA CLASSE "NORTH CAROLINA".
Release of 18/05/2018
Author:
Philippe CARESSE
Edition:
HORS-SÉRIE NAVIRES & HISTOIRE N°33.
ISBN :
After nearly two decades of standstill, the US Navy decided to build modern airlifters capable of escorting aircraft carriers in large-scale raids.
The two North Carolina class battleships were fast, well-protected, and had outstanding artillery.
The Washington successfully participated in one of the last gun battles in the Pacific campaign, and North Carolina fired numerous artillery shells during landings in the Solomon Sea and the Philippines.
This special issue will give you a complete history of these battleships, as well as their technical characteristics, the whole being embellished with 227 photos, 17 shots and 9 color profiles.
Format : A4
Pages number : 112
Pictures number : 227
Language : French
Color profiles : 9
Available Price: 17.50 €
Avions-bateaux suggestions :
LES SOUS-MARINS DE LA KRIEGSMARINE 1935-1943 5éme partie : La fin.

17.50€

TTC

LES CUIRASSÉS DE POCHE DE LA KRIEGSMARINE

17.50€

TTC

Le tournant de la Bataille de l'Atlantique : Convoi ONS 5.

17.50€

TTC

BATTLESHIPS CLASS '' SOUTH DAKOTA ''.

17.50€

TTC

Les Destroyers de l'US Navy, Tome 3 : Les Benson, Gleaves et Fletcher à l'épreuve du feu.

17.50€

TTC

Les Destroyers de l'US Navy, Tome 2: Des Farragut aux Sims, les constructions d'entre-deux guerres.

17.50€

TTC

Les Poches de l'Atlantique.

17.50€

TTC