Available Price: 17.50 € VAT included 2.10 % : 0.36 €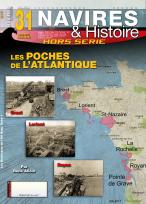 Les Poches de l'Atlantique.
Release of 19/09/2017
Author:
René ALLOIN
Edition:
HORS-SÉRIE NAVIRES & HISTOIRE N°31.
ISBN :
The deterioration of the situation on the eastern front and the threat of an Anglo-American landing on the western front decided Hitler to adopt new measures designed to discourage the Allies from launching a major offensive. Accordingly, by a directive of 19 January 1944, the Führer ordered the creation of pockets of resistance along the coasts from the Netherlands to the south-west of France.
Five will be operational on the Atlantic coast: Brest, Lorient, Saint-Nazaire, La Rochelle and Royan and Pointe de Grave. These five pockets are treated in this special edition.

Approximately 300 photos and 4 full-page maps.
Format : A4
Pages number : 112
Pictures number : 300
Language : French
Color profiles :
Available Price: 17.50 €
Avions-bateaux suggestions :
LES SOUS-MARINS DE LA KRIEGSMARINE 1935-1943 5éme partie : La fin.

17.50€

TTC

LES CUIRASSÉS DE POCHE DE LA KRIEGSMARINE

17.50€

TTC

Le tournant de la Bataille de l'Atlantique : Convoi ONS 5.

17.50€

TTC

BATTLESHIPS CLASS '' SOUTH DAKOTA ''.

17.50€

TTC

Les Destroyers de l'US Navy, Tome 3 : Les Benson, Gleaves et Fletcher à l'épreuve du feu.

17.50€

TTC

LES CUIRASSÉS DE LA CLASSE "NORTH CAROLINA".

17.50€

TTC

Les Destroyers de l'US Navy, Tome 2: Des Farragut aux Sims, les constructions d'entre-deux guerres.

17.50€

TTC