Available Price: 17.50 € VAT included 2.10 % : 0.36 €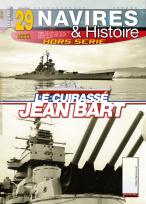 LE CUIRASSÉ JEAN BART.
Release of 3/03/2017
Author:
Philippe CARESSE
Edition:
HORS-SÉRIE NAVIRES & HISTOIRE N°29.
ISBN :
The forgotten battleship of the French Navy deserves our attention, because it represents the ultimate culmination of this type of building.
Escaped from Saint Nazaire with the nose and the beard of the German forces in June 1940, it will take refuge in Casablanca where it will be put under evil by the American naval aviation during Operation '' Torch ''.
It will rise from its ashes after the conflict by participating in several missions of official representations and the operation '' Musketeer '' during the Suez affair.
At the same time, it will serve as an experimental building for new equipment to equip the buildings of the new generation of the French Navy.
It will unfortunately be scrapped in the early 70s, leaving nevertheless a strong memory in the minds of French sailors.
With 203 photos, 8 maps, 15 shots and 4 color profiles.
Format : A4
Pages number : 96
Pictures number : 203
Language : French
Color profiles : 4
Available Price: 17.50 €
Avions-bateaux suggestions :
LES SOUS-MARINS DE LA KRIEGSMARINE 1935-1943 5éme partie : La fin.

17.50€

TTC

LES CUIRASSÉS DE POCHE DE LA KRIEGSMARINE

17.50€

TTC

Le tournant de la Bataille de l'Atlantique : Convoi ONS 5.

17.50€

TTC

BATTLESHIPS CLASS '' SOUTH DAKOTA ''.

17.50€

TTC

Les Destroyers de l'US Navy, Tome 3 : Les Benson, Gleaves et Fletcher à l'épreuve du feu.

17.50€

TTC

LES CUIRASSÉS DE LA CLASSE "NORTH CAROLINA".

17.50€

TTC

Les Destroyers de l'US Navy, Tome 2: Des Farragut aux Sims, les constructions d'entre-deux guerres.

17.50€

TTC