Available Price: 17.50 € 8.75 € VAT included 2.10 % : 0.36 €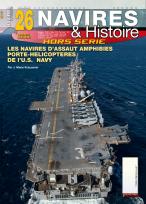 LES NAVIRES D'ASSAUT AMPHIBIES PORTE-HELICOPTERES DE l'U.S. NAVY.
Release of 24/02/2016
Author:
J. Marie Krausener
Edition:
HORS-SÉRIE NAVIRES & HISTOIRE N°26.
ISBN :
The US has the largest amphibious force in the world. Two amphibious groups gathered around a ship aircraft carrier, are permanently deployed in the oceans. These amphibious ships have the capacity to carry out landing operations by sea and by air. To this end, they carry more than 2,000 Marines with their aviation consists of thirty helicopters and aircraft short takeoff and vertical landing. With 270 photographs, including 220 color profiles and 6 in B & W.
Format : A4
Pages number : 104
Pictures number : 270
Language : French
Color profiles : 6
Available Price: 8.75 €
Avions-bateaux suggestions :
LES CUIRASSÉS DE POCHE DE LA KRIEGSMARINE

17.50€

TTC

Le tournant de la Bataille de l'Atlantique : Convoi ONS 5.

17.50€

TTC

BATTLESHIPS CLASS '' SOUTH DAKOTA ''.

17.50€

TTC

Les Destroyers de l'US Navy, Tome 3 : Les Benson, Gleaves et Fletcher à l'épreuve du feu.

17.50€

TTC

LES CUIRASSÉS DE LA CLASSE "NORTH CAROLINA".

17.50€

TTC

Les Destroyers de l'US Navy, Tome 2: Des Farragut aux Sims, les constructions d'entre-deux guerres.

17.50€

TTC

Les Poches de l'Atlantique.

17.50€

TTC