Available Price: 17.50 € 8.75 € VAT included 2.10 % : 0.36 €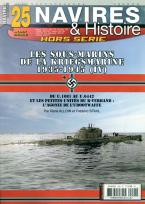 Les sous-marins de la Kriegsmarine 1935-1945, vol. 4. Du U.1081 au U.6442 : L'AGONIE DE L'UBOOTWAFFE. Rest 19 exp. then out of print !
Release of 30/10/2015
Author:
René Alloin et Frédéric Stahl
Edition:
HORS-SÉRIE NAVIRES & HISTOIRE N°25.
ISBN :
The year 1945 marks the end of the Ubootwaffe.
After periods in which the refueling Britain seemed virtually halted allied against-measures have had reason for this formidable weapon. Submarines new generations, Type XXI, arrive too late to be likely to change a situation already compromised and the "Klein U-boats" does not have the means to effectively disrupt the Allied landings.
The last throes of German submarine warfare are well reported in this fourth and penultimate special issue.
Format : A4
Pages number : 136
Pictures number : 380
Language : French
Color profiles : 14
Available Price: 8.75 €
Avions-bateaux suggestions :
LES CUIRASSÉS HMS NELSON ET HMS RODNEY.

17.50€

TTC

LES SOUS-MARINS DE LA KRIEGSMARINE 1935-1943 5éme partie : La fin.

17.50€

TTC

LES CUIRASSÉS DE POCHE DE LA KRIEGSMARINE

17.50€

TTC

Le tournant de la Bataille de l'Atlantique : Convoi ONS 5.

17.50€

TTC

BATTLESHIPS CLASS '' SOUTH DAKOTA ''.

17.50€

TTC

Les Destroyers de l'US Navy, Tome 3 : Les Benson, Gleaves et Fletcher à l'épreuve du feu.

17.50€

TTC

LES CUIRASSÉS DE LA CLASSE "NORTH CAROLINA".

17.50€

TTC