Available Price: 17.50 € 8.75 € VAT included 2.10 % : 0.36 €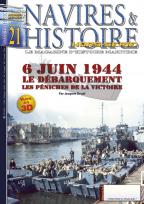 6 JUIN 1944, LE DÉBARQUEMENT - Les péniches de la Victoire.
Release of 22/05/2014
Author:
Jacques DRUEL
Edition:
Hors Série NAVIRES & HISTOIRE N° 21 - 3D.
ISBN :
There are seventy years; June 6, 1944, thousands of soldiers darted to storm the beaches of Normandy. With Operation Overlord, the liberation of Europe was underway.
The success of this plan was based largely on the gathering of a gigantic fleet amphibiouscapable of transporting a considerable number of men and vehicles.
Of all types of ships used, the landing craft are the symbol of D-Day
Modest British LCA, at huge LSD (Landing Ship Dock) of the U.S. Navy, the main types of barges and landing craft used in the Longest Day is reviewed in this special issue of Navires & Histoire, with historical , product description, photos and stunning graphics 3D drawings.
Format : A4
Pages number : 118
Pictures number : 250
Language : French
Color profiles :
Available Price: 8.75 €
Avions-bateaux suggestions :
LES CUIRASSÉS DE POCHE DE LA KRIEGSMARINE

17.50€

TTC

Le tournant de la Bataille de l'Atlantique : Convoi ONS 5.

17.50€

TTC

BATTLESHIPS CLASS '' SOUTH DAKOTA ''.

17.50€

TTC

Les Destroyers de l'US Navy, Tome 3 : Les Benson, Gleaves et Fletcher à l'épreuve du feu.

17.50€

TTC

LES CUIRASSÉS DE LA CLASSE "NORTH CAROLINA".

17.50€

TTC

Les Destroyers de l'US Navy, Tome 2: Des Farragut aux Sims, les constructions d'entre-deux guerres.

17.50€

TTC

Les Poches de l'Atlantique.

17.50€

TTC