Available Price: 17.50 € 8.75 € VAT included 2.10 % : 0.36 €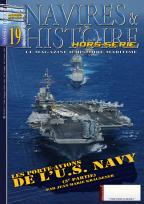 Les Porte-avions de l'U.S. NAVY - 3éme partie.
Release of 17/12/2013
Author:
Jean Marie KRAUSENER
Edition:
Hors Série NAVIRES & HISTOIRE N° 19.
ISBN :
The third part of this series describes the development and evolution of modern super aircraft carriers, since the class "Kitty Hawk" and the "Enterprise", the first nuclear-powered aircraft in history, and class "Nimitz "the largest with ten nuclear ships, jewel of technology, engaged in recent conflicts.
Format : A4
Pages number : 128
Pictures number : 400
Language : French
Color profiles : 20
Available Price: 8.75 €
Avions-bateaux suggestions :
LES CUIRASSÉS DE POCHE DE LA KRIEGSMARINE

17.50€

TTC

Le tournant de la Bataille de l'Atlantique : Convoi ONS 5.

17.50€

TTC

BATTLESHIPS CLASS '' SOUTH DAKOTA ''.

17.50€

TTC

Les Destroyers de l'US Navy, Tome 3 : Les Benson, Gleaves et Fletcher à l'épreuve du feu.

17.50€

TTC

LES CUIRASSÉS DE LA CLASSE "NORTH CAROLINA".

17.50€

TTC

Les Destroyers de l'US Navy, Tome 2: Des Farragut aux Sims, les constructions d'entre-deux guerres.

17.50€

TTC

Les Poches de l'Atlantique.

17.50€

TTC