Show only:
HORS-SERIE BA
Promotional books in this collection do not benefit from the Discount Club Subscribers.
Price: 18.90 € 11.35 € Available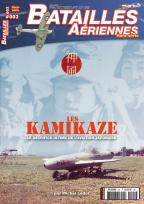 The Kamikaze: The ultimate sacrifice of Japanese aviation.
Release of 30/09/2016
HS BATAILLES AÉRIENNES N°02.
From October 1944 till August 1945, Japan played his last card in the Pacific War and used the famous Kamikaze suicide squads againt the US forces. Every flyable aircraft was put in the hands of... [read more]
Price: 18.90 € 11.35 € Rupture, en attente de réapprovisionnement
LE DÉBARQUEMENT - Les combats aériens de Juin 1944. Rest 03 copies then out...
Release of 5/06/2014
HS BATAILLES AÉRIENNES N°01.
IN the 70th anniversary of the Normandy landings, BRINGS TOGETHER THE BATAILLES AERIENNES # 28 & 29 LONG SOLD IN ONE NUMBER IN Y INCLUDING NEW PHOTOGRAPHS OF NEW PROFILES COLORS AND REVISED... [read more]