Available Price: 14.50 € 7.25 € VAT included 2.10 % : 0.30 €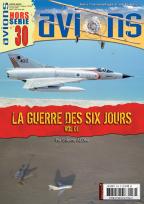 La Guerre des Six Jours - Vol.01.
Release of 31/05/2011
Author:
Shlomo ALONI
Edition:
HORS SERIE AVIONS N°30
ISBN :
The Six Days War is one of the most 'famous' of modern conflicts in which aviation played a very important role. In the hands of its excellent Israeli pilots the exploits of the Mirage III surprised the world. In this new publication the author presents an in-depth account of the aerial fighting. The French-language text is richly illustrated with many photos and colour profiles.
Format : A4
Pages number : 80
Pictures number : 200
Language : French
Color profiles : 19
Available Price: 7.25 €
Avions-bateaux suggestions :
LA 15.(Kroat.)/JG 52 SUR LE FRONT DE L'EST, 1941-1944.

17.50€

TTC

LES HYDRAVIONS DE CHASSE JAPONAIS AU COMBAT (2éme partie)

17.50€

TTC

LES HYDRAVIONS DE CHASSE JAPONAIS AU COMBAT (1e partie)

17.50€

TTC

Le Groupe de Chasse II/3. Charognards et Lévriers dans la tourmente, sept.1939-juin 1940.

17.50€

TTC

LES PERTES DES MESSERSCHMITT Me 262.

17.50€

TTC

LES AS DE L'AVIATION ISRAÉLIENNE.

17.50€

TTC

B-29 contre MIG-15 dans le ciel de Corée, ou la dernière guerre des "SUPERFORTRESSES"

17.50€

TTC