Available Price: 42.00 € VAT included 5.50 % : 2.19 €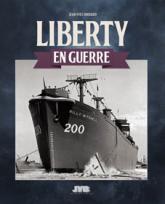 LIBERTY en Guerre.
Release of 20/10/2011
Author:
Jean-Yves BROUARD
Edition:
JYB AVENTURES N°03
ISBN :
Construction in the United States during the World War II, snails type Liberty Ship is a great epic. As part of the emergency program to fight the Axis forces on one side and Japanese on the other, we had to create from scratch, quickly and in large numbers, a huge fleet of freighters in good size, abble to carrying all the existing equipment, useful to the troops on all fronts. The aim was to launch more ships than could flow in submarines and enemy aircraft.
2 700 cargoships, Liberty-type, have been built in USA during the war. They sailed all around the world, carrying food, military materials and so across the 7 seas. Without the Liberties, the Allied forces would have not won the fight against the Axis.
Format : 23X29
Pages number : 204
Pictures number : 370
Language : French
Color profiles :
Available Price: 42.00 €
Avions-bateaux suggestions :
HISTOIRE D' "EMPIRE".

39.00€

TTC

The French Merchant Navy. 1939 - 1945. (PROMO )

44.00€

TTC

The PASTEUR (PROMO)

49.00€

TTC