Show only:
Books on the French Army
In this collection, you will discover works mainly published on behalf of authors. Small, high quality print.
Delay in delivery of titles not edited by LELA Presse may occur. Thank you for your patience, ... More titles you are interested in this collection, I can order them. Contact me on [email protected] or 0032 (0)5.55.31.08.28.
Price: 29.00 € 20.30 € Out of stock, waiting back order
TRANSMISSIONS 1900-1940. "History" of Materials, vol.2. Other...
Release of 30/11/2017
ÉDITIONS Aimé SALLES
ATTENTION - Last copies, it will then be exhausted! This book succeeds a first volume devoted to a "History" of French military radio and television equipment from 1900 to 1940. It... [read more]
Price: 45.00 € Available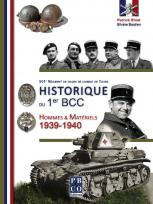 Historique du 1er BCC. 501e Régiment de chars de combat de Tours. Hommes et...
Release of 1/04/2017
PB&CO Editions
This book describes the history of the 1st Tank Bataillon of the Franch Army during the short but intense 1939-1940 campaign against the Germans. The text has been built around the archive... [read more]