Show only:
BATAILLES AERIENNES
BATAILLES AÉRIENNES quarterly magazine Publishing LELA PRESSE, created in 1997, is as the title suggests, a magazine of analysis under battles air appearance, but also campaigns experienced by units. Subjects as important as the Phony War, the Campaign of France, Poland, Norway, Midway, Marita ... are covered in this magazine. More than 150 photos, many color profiles, maps, etc ... Magazine for history buffs who want to travel in the heart of the fighting.

It is also available on newsstands ... You can also subscribe and thus make real savings, receive directly from you and enjoy the Privileges CLUB OF SUBSCRIBERS!
Price: 18.90 € 11.35 € Available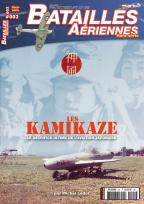 The Kamikaze: The ultimate sacrifice of Japanese aviation.
Release of 30/09/2016
HS BATAILLES AÉRIENNES N°02.
From October 1944 till August 1945, Japan played his last card in the Pacific War and used the famous Kamikaze suicide squads againt the US forces. Every flyable aircraft was put in the hands of... [read more]
Price: 18.90 € 11.35 € Rupture, en attente de réapprovisionnement
LE DÉBARQUEMENT - Les combats aériens de Juin 1944. Rest 03 copies then out...
Release of 5/06/2014
HS BATAILLES AÉRIENNES N°01.
IN the 70th anniversary of the Normandy landings, BRINGS TOGETHER THE BATAILLES AERIENNES # 28 & 29 LONG SOLD IN ONE NUMBER IN Y INCLUDING NEW PHOTOGRAPHS OF NEW PROFILES COLORS AND REVISED... [read more]