Available Price: 12.50 € VAT included 5.50 % : 0.65 €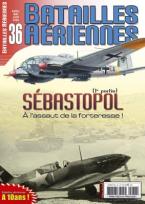 Sébastopol [Part 1]. Rest 05 copies then out of print !
Release of 20/04/2006
Author:
Miroslav Morozov
Edition:
BATAILLES AERIENNES n°36.
ISBN :
EDITORIAL We have previously published in the No. 33 Air Battles, the story of fighting which took place in the Crimean peninsula in 1941. Miroslav Morozov, historian serving with the Russian Navy, we propose in this issue after these events, that is to say, the early seat of the great naval base of Sevastopol. For the first time, the dogfights are described in detail, the author has had access to Soviet archives. As seen from reading this story, the Air Force presence was not significant, however, the fighting was daily and relentless. The reader can appreciate the impressive work done by the author is able to reconstruct the course of air operations from day to day. The help of our friend Jean-Louis Roba for the German side has also been crucial. One of the problems encountered in this issue was the crippling lack of photos. The selection was rigorous and difficult, both on the Russian side that the German side. Why? On the Russian side, it is evident that the rapid retreat, permanent censorship and certainly the lack of equipment have little easier to take photographs. For Germans, the small number of units and the fact that this was a secondary front, are certainly two good reasons for this scarcity of documents. This issue will be followed by the second part, devoted to the fall of Sevastopol. Happy reading! Regular readers and subscribers Air Battles not fail to notice that their magazine celebrates its tenth anniversary with the release of this issue. What progress, with the constant efforts to provide the subjects addressed by serious authors who continue their ever-historical research. We know you enjoy these topics and we strive to continue this way ... Michel Ledet.
Format : A4
Pages number : 80
Pictures number : 120
Language : French
Color profiles : 20
Available Price: 12.50 €
Avions-bateaux suggestions :
B-29 sur le JAPON - 4éme partie. Les débuts du XXI Bomber Command aux Mariannes.

12.50€

TTC

B-29 sur le JAPON - 3éme partie - Le 21th Bomber Command".

12.50€

TTC

1919 - The Great War. Conflicts and Post-Armistice Wars.

12.50€

TTC

B-29 sur le JAPON - 2éme partie - Le 20th Bomber Command et l'Opération "Matterhorn".

12.50€

TTC

B-29 sur le JAPON - 1ére partie - Le 20th Bomber Command et l'Opération "Matterhorn".

12.50€

TTC

La Luftwaffe sur Malte. 3éme partie.

12.50€

TTC

La Luftwaffe sur Malte. 2éme partie. Out of print

12.50€

TTC