Available Price: 12.50 € VAT included 5.50 % : 0.65 €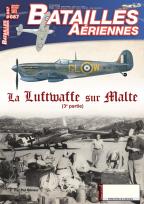 La Luftwaffe sur Malte. 3éme partie.
Release of 18/01/2019
Author:
Pol Glineur
Edition:
BATAILLES AÉRIENNES N°87
ISBN :
This issue closes the story of "The Luftwaffe on Malta". As we have seen from previous issues, the RAF was hardly able to cope with the German hunt above the island.
Despite the first reinforcements arrived thanks to the carriers of the Royal Navy, the quality of the crews of the Luftwaffe did not allow the RAF to ensure the control of the sky of Malta. It was only after the arrival of many Spitfires and especially the dispersion of the Luftwaffe's resources that the RAF was
able to cope and take over in the Maltese sky. The fighting remained until the end very disputed. The losses of the German bombing units only increased, especially when they did not have any escorts. This story clearly shows that Germany did not have the means to make the war that it had triggered everywhere in Europe, with a front of the East greedy in men and equipment and the arrival in Europe of the American means. It was only a foretaste of the catastrophe that would affect the 3rd Reich!

Among the next issues, we will offer you this time another war: the one that led the 20th Air Force on Japan.
Format : A4
Pages number : 96
Pictures number : 200
Language : French
Color profiles : 20
Available Price: 12.50 €
Avions-bateaux suggestions :
1919 - The Great War. Conflicts and Post-Armistice Wars.

12.50€

TTC

B-29 sur le JAPON - 2éme partie - Le 20th Bomber Command et l'Opération "Matterhorn".

12.50€

TTC

B-29 sur le JAPON - 1ére partie - Le 20th Bomber Command et l'Opération "Matterhorn".

12.50€

TTC

La Luftwaffe sur Malte. 2éme partie. Out of print

12.50€

TTC

ABONNEMENT BATAILLES AERIENNES 1 AN

50.00€

TTC

1918 - THE GREAT WAR. From German offensives to Allied final victory.

12.50€

TTC

La Luftwaffe sur Malte. 1ére partie.

12.50€

TTC