Available Price: 12.00 € VAT included 2.10 % : 0.25 €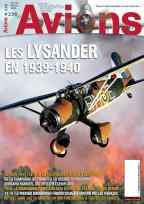 AVIONS N°238
Release of 18/12/2020
Author:
Edition:
Les LYSANDER en 1939-1940
ISBN :
Summary of this N ° 238:
- Letters to the readers.
- The RAF in France: The Lysander in combat (September 1939-June 1940). Full story, by Jean-Louis Roba.
- June 22, 1941: the most devastating Zerstörer raid! Full story, by Mikhail Timine.
- 1945: the Aichi B7A Ryusei torpedo bomber, the final "shooting star", part 2 and last, by Bernard Baëza.
- The first Friedrichshafen bomber captured by the French. Full story, by Christophe Cony.
- Bernard Barbier, an exemplary officer. Full story, by Jean-Jacques Leclercq.
- News: SAAB JAS 39 Gripen, a Swedish griffin Part 2: the second generation, by Stéphane Nicolaou.

In front page :
A Lysander Mk.I of No 26 Squadron in action over northern France in May 1940 (composition by Jean-Baptiste Delcambre)

We talk about it on the Net and in the Press:

On the cover, a rather particular mount that the Wesland Lysander, born from a concept based on the observation of the ground on behalf of the field artillery of the ARMY, massive, mastoc, it is a big solid beast which knows how to take the blows of small arms and which as a bonus has clear STOL flight qualities that flies slowly, it takes off short and it lands in a pocket handkerchief ... quite quickly relegated to so-called secondary but essential roles, produced in England and Canada, the "Lyzzie" will find a very special place by becoming in history as the plane of the secret agents, a discreet role ... but this is in the order of a sequel to this beautiful portrait of a machine that is out of the ordinary ... beautiful photos and a text strong in discovery ...
I add a complement with the presentation of this rare book presented here in this link: LYZANDER - La Tourmente au clair de lune
As for the remaining articles, they are all worth an in-depth reading due to the quality of the whole with authors mastering their subjects treated here with care ... the Avions magazine holds its rank and its place in your personal bookshop ... © Marc Debeer - Fleuves & Canaux.
Format : A4
Pages number : 96
Pictures number : 200
Language : French
Color profiles : 11
Available Price: 12.00 €
Avions-bateaux suggestions :
AVIONS N°239

12.00€

TTC

AVIONS N°237

12.00€

TTC

AVIONS N°236

12.00€

TTC

AVIONS N°235 - OUT OF PRINT

12.00€

TTC

AVIONS N°234

12.00€

TTC

AVIONS N°233

12.00€

TTC

AVIONS N°232

12.00€

TTC