Not available Price: 49.00 € VAT included 5.50 % : 2.55 €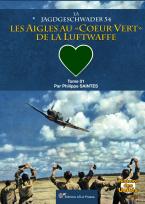 La Jagdgeschwader 54 : Les Aigles au 'coeur vert' de la Luftwaffe. Tome 01. out of print !
Release of 9/12/2017
Author:
Philippe SAINTES
Edition:
HISTOIRE DES UNITÉS 05
ISBN :
978-2-37468-004-0
Part one of a new French-language history of Jagdgeschwader 54, one of the best-known fighter units of the Luftwaffe. Philippe Saintes' new history of this unit is illustrated with hundreds of photos (mostly rare and/or previously unpublished) and relates the struggles, successes and reverses of JG 54 during the first half of the Second World War when its pilots flew the Bf 109 exclusively. From first deployment against Poland in 1939 to the bloody duels with the Soviet air forces in the skies of Leningrad, including the combats on the Western Front during 1940, JG 54 (the 'Green Hearts') left its mark in European skies. Based on numerous first-hand accounts and documents (victory reports, stories taken from war diaries, loss lists) compiled over many years, the author reconstructs the history of this famous unit, which even today has remained largely unknown despite the presence in its ranks of many famous aces. 380 pages, more than 850 photos and 30 color profiles.
We talk about it in the Press and on the Net:
- The Jagdgeschwader 54 is one of the legendary fighter squadrons of the Luftwaffe, and this for multiple reasons, ranging from the "nest" of Experten (as) that it sheltered: Trautloft, Nowotny, Späte, Kittel, Schnell, Philipp etc ... (the author also devotes 10 pages to the biographies of the most famous of them), to the "exotic" camouflage worn by many cameras.
Philippe Saintes, well-known author and specialist in the Luftwaffe (see different "Air Battles" devoted to the JG53, JG 52 ... the JG 54 is in continuity!), Gratifies us here with 300 very dense pages devoted to the period 1940- 42 of this unit (basically it stops when the Fw 190 arrives…).
The format is traditional but effective: numerous extracts from memories of pilots integrated into a chronological text which itself must be derived from a Unit March Journal, even if the "sources" page only cites historical works. As you can imagine, anecdotes and more tactical information abound.
As a layout designer, the big flaw in this book is the absence of a chapter / appendix devoted to non-standard camouflage worn by JG 54 aircraft. In my opinion, the profiles (excellent work by Thierry Dekker) would have won detailed studies explaining what was "regulatory" and "improvised".
Note, at the end of each chapter, loss tables which summarize in a few pages the fights described in the texts.
Note also elements that facilitate readability: the citations in green, the photo captions in blue, a glossary in the appendix, maps of the combat zones ... lacked more than an index!
The author has benefited from the help of many alumni and photo collectors, which allows him to group several photos showing (turning around!) The same device. This is an advantage of this kind of work on more reduced and compact monographs ... and of incomparable utility for the model makers who often complain of having only one photo of an "interesting" camera. In addition, most of the illustrations come from private collections and are therefore unpublished.
In conclusion: a very beautiful book, which is easy to read (the clear layout with the color codes to identify the quotes helps!) And which, due to its rich iconography is a must for fans of Luftwaffe. © Modelstories 2020
Format : A4
Pages number : 304
Pictures number : 850
Language : French
Color profiles : 30
Not available Price: 49.00 €
Avions-bateaux suggestions :
La Stukageschwader 2 'Immelmann'. Tome 02

35.00€

TTC

La Lehrgeschwader 1, l'Escadre au Griffon. Tome 02

43.00€

TTC

La Jagdgeschwader 54 : Les Aigles au 'coeur vert' de la Luftwaffe. Tome 02.

49.00€

TTC

Le III./Zerstörergeschwader 26 - 1939/1944. Out of print

35.00€

TTC

Le GC III/3 en 1939-1940. Condors et Pirates au combat.

38.00€

TTC

Le 350 (Belgian) Squadron. Out of print !

39.00€

TTC

La Stukageschwader 2 'Immelmann'. Tome 01

39.00€

TTC